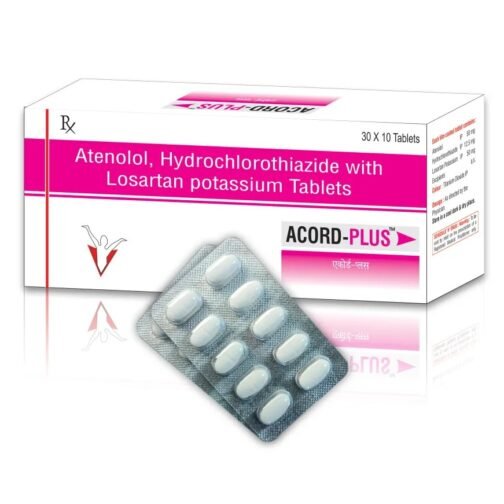 ACORD-PLUS Tablets
A Superior Combination to Treat Hypertension
COMPOSITION  – Atenolol 50 mg + Hydrochlorothiazide 12.5 mg + Losartan Potassium 50 mg
Description
Atenolol significantly reduce blood pressure and pulse rate in patients at rest and during exercise.
Atenolol shows 71% efficacy as compared to Carvedilol 61% in hypertension.
Combination is well tolerated and more effective in the treatment of severe hypertension.
Combination leads to cardioprotection, renal protection, and improve UA(uric acid) metabolism.
Composition
Atenolol 50 mg + Hydrochlorothiazide 12.5 mg + Losartan Potassium 50 mg